What Products Does RUPES Polishing System Have to Offer?
RUPES is a well-known Italian company specializing in high-quality professional tools and equipment for the automotive detailing and polishing industry. The RUPES Polishing System is a comprehensive range of products designed to provide solutions for paint correction, polishing, and finishing processes. These products include polishers, compounds, pads, and backing plates.
RUPES BigFoot Polisher
The RUPES Big Foot Random Orbital Polishing System is an assembly of car polishers. This product line is specially formulated polishing compounds and foam microfiber polishing pads. It provides effective use for the professional auto detailer and car hobbyist who command an extraordinary finish. RUPES spent years perfecting this system by collecting information from users around the globe. In order to make sure every foam pad and polishing compound performed impeccably on all paint systems when used with the Big Foot Random Orbital Polishing System. The Polishing System guarantees quicker paint correction than any other buffing and polishing system on the market without giving up the quality of the finish.
What Polishing Compounds Should Be Used?
Using the latest breakthroughs in abrasive technology. The RUPES polishing compounds have been developed, tested, refined, blended, and packaged 100% in-house by Rupes. These all-new compound and polish formulas aren't just a new standard for Rupes, they're a new standard for the industry. Each of these new BigFoot liquids is an essential part of the RUPES Polishing System and they represent the company's commitment to innovation and quality. Improved cutting performance, astounding finishing ability, and a focus on the user experience provide excellent paint correction for the customer. This product is available to purchase at Benami Autocare through our website or visit the store for pick up.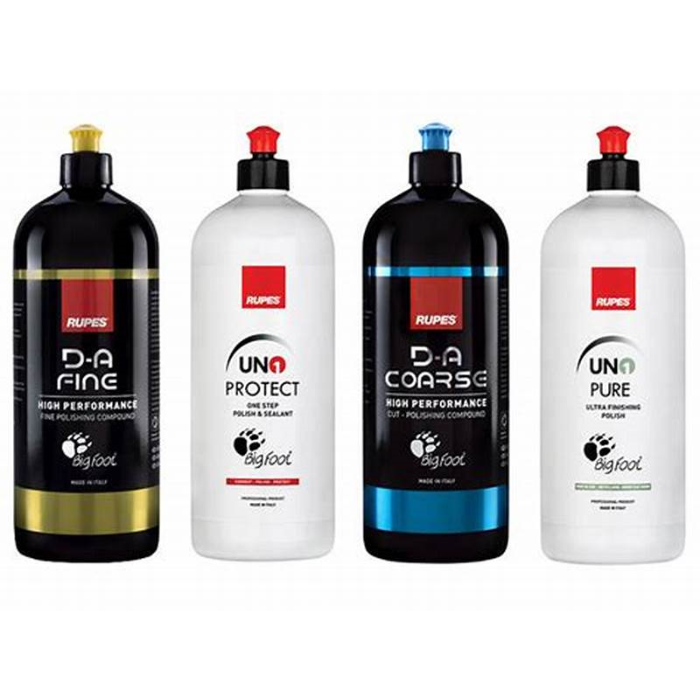 What Pads Are Recommended For RUPES Polishing System?
RUPES recommends using their own line of foam pads specifically designed to work with their BigFoot polishers. The foam pads are an essential component of the polishing process as they help to optimize the performance of the polishers and achieve the desired results on various paint surfaces. Attached below are the recommended pads for different detailing needs.
RUPES Blue Coarse Foam Pad: This pad is designed for heavy cutting and aggressive paint correction. It features a coarse foam composition that effectively removes deeper scratches, swirls, and oxidation from the paint surface.
RUPES Green Medium Foam Pad: The green medium foam pad is a versatile option suitable for moderate paint correction and defect removal. It works well with medium-grade polishing compounds to refine the paint surface.
RUPES Yellow Fine Foam Pad: This pad is intended for light polishing and finishing work. It helps to remove light swirl marks and holograms, leaving a smooth and glossy finish.
RUPES White Ultra Fine Foam Pad: The white ultra-fine foam pad is ideal for applying waxes, sealants, and finishing polishes. It provides a final touch to enhance the paint's clarity and shine.